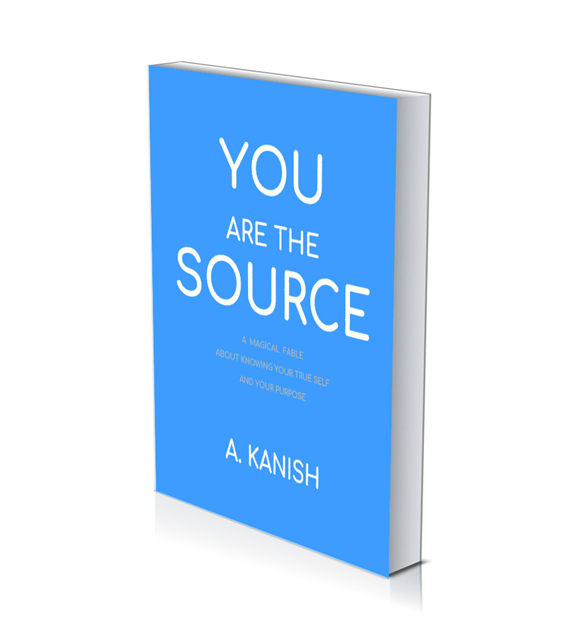 Meet A. Kanish
Founder & Chief You Officer, Clapself
A. KANISH is a tech entrepreneur, a writer and speaker on personal growth and spirituality.
Kanish is Founder & CYO of Clapself, a media technology company with a mission to celebrate, inspire, and empower people. He is also the host of groundbreaking web series 'Life Makes Sense' bringing insightful talks every week based on his debut book, You are the Source.
Earlier, he co-founded and led multiple ventures offering innovative software solutions including a patented technology that was acquired by Google. Born and raised in New Delhi, India, Kanish migrated to the US to pursue higher studies. He lives in Northern California with his wife and daughter.
"I don't win, I don't lose; I experience."
   — A. Kanish
YOU ARE THE SOURCE
A MAGICAL FABLE ABOUT KNOWING YOUR TRUE SELF AND YOUR PURPOSE
Odyssey to self-discovery that unlocks your true potential
This life-changing tale takes you on an enlightening journey and points you to potential answers to the two most profound questions before a human being — Who am I and what is my purpose?
About Book
A stunningly crafted fable, You are the Source, is a fascinating story of a struggling father and how his edifying conversations with his 'unborn' daughter transformed his life forever. The mystic daughter explains the ancient wisdom with modern sensibilities and using easy-to-understand examples, empowering both the father and his 'born' daughter to live a life of freedom and joy.
5S Framework
The practical lessons of the 5S Framework presented in the book enable the father, the daughter, and the reader to:
Source — Know who the real you is and what is your intent.
Seed — Discover your mind and learn what all it constructs.
Soil — Find out how the Universe brings what your mind constructs.
Season — Learn about the unfolding seasons of your life.
Sowing — Master simple practices bringing more freedom and joy to your life journey.
Latest from A. Kanish
You Are The Source - Book Trailer
7 Lessons from Coronavirus